Broccolli Mushroom Soup
COOKINDO - Hello cookindo friends, this time we will provide a food recipe in the form of vegetables that are savory to eat and are the best if you add hot rice. The food in question is Broccolli Mushroom Soup. Let's start cooking.
200 gr chicken, cut into cubes
1 piece of broccoli
1 pack of mushrooms
2 cloves of garlic, chopped
1 tbsp oyster sauce
1/2 tsp ground black pepper
1/2 tablespoon cornstarch, dissolved in water
Salt to taste
STEP 1
Sauté the garlic until fragrant, add the chicken. Cook until the chicken changes color.
STEP 2
Enter the mushrooms. Add oyster sauce, ground black pepper and salt.
STEP 3
Add broccoli, cook until broccoli is cooked. Pour in the cornstarch solution. Stir, cook until slightly thickened.
STEP 4
More delicious served with warm rice.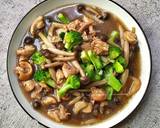 Read Too :
Chicken Cauliflower Soup Home Made - You Must Try I