COOKINDO - Hello cookindo friends, this time we will provide a food recipe that you will surely like, this food is currently popular among the people. What food is it? The food in question is Cheede Roll which will excite your tongue. Let's start making it.
Cooking Ingredients :
(for 15 pieces)
15 pieces of spring roll skin
3/4 cheddar cheese, cut lengthwise (or as needed)
Sugar to taste
White sweetened condensed milk to taste
To taste cooking oil
2 tablespoons of flour mixed with a little water, to make an adhesive
Read Too : Kaasstengels Baked Cheese Stick Homemade - Let's Try It
How To Make :
STEP 1
Prepare ingredients. Place 1 piece of cheese on top of the spring roll skin, sprinkle with 1 tsp of sugar and a little
condensed milk to taste
. Put adhesive on the ends of the skin, then roll it up.
Here's an example of how to roll it, tape the ends so that the sugar and SKM don't flow out when fried. You can also freeze it for snack stock, but when rolling you don't need to use sweetened condensed milk.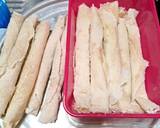 STEP 3
Heat sufficient cooking oil in a frying pan, fry over low heat until lightly browned. Lift and serve.