Corn Egg Soup


COOKINDO - Hello cookindo friends, this time we will make a special dish from China, which is best eaten when it is still warm. The food in question is Corn Egg Soup. Let's start cooking.
1 sweet corn, peeled, shelled
1 can of sweet corn cream style
3 tbsp vegetable oil
3 cloves of garlic, finely chopped
2 tablespoons spring onions, coarsely chopped
100 g of chicken meat, cut into small squares
500 ml of chicken stock
2 tbsp soy sauce
1 tsp ground pepper
1/2-1 tsp salt
2 egg whites, beaten
1 tablespoon cornstarch, dissolved in a little water
1 tsp wien oil
Sprinkled :
Finely slice green onions
STEP 1
Heat oil in a soup pot, saute garlic and chives until fragrant. Enter the chicken meat, stir until stiff and white.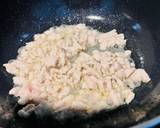 STEP 2
Pour in the chicken broth, add the sweet corn kernels, sweet corn creme style then bring to a boil. Season with soy sauce, pepper and salt. Cook until the corn is soft.
STEP 3
Pour the egg whites while stirring quickly until fine stringy. Add cornstarch solution, stir until boiling and thick.Add sesame oil, mix well.Turn off the fire.
STEP 4
Serve warm with a sprinkling of spring onions.