Chicken Salad With Delicious Croutons
COOKINDO - Hello cookindo friends, this time we will provide a recipe for food that has a variety of tastes on the tongue but tastes delicious. What food is it? the food in question is Recipe Of Chicken Salad With Delicious Croutons. Curious how to make it? let's start cooking and follow step by step to cook it.
Cooking Ingredients:
(+- 2 servings) (+- 30 minutes)
100 gr chicken (main ingredient)
1 carrot
4 tbsp cabbage
4 tablespoons of sublime sweet
Croutons to taste
Read Too : Salad With Carrot Home Made Delicious - You Must Try It
How To Make:
STEP 1
Prepare materials. Mix water, vinegar and sugar and stir well. Pour in the vegetable ingredients, mix well and then put in the refrigerator for 15 minutes. Drain well.
STEP 2
Cut the chicken meat. Mix with the marinade, let stand 10 minutes. Heat the thin margaris then fry the chicken until browned. Remove then sliced smaller.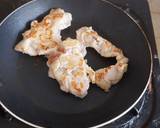 STEP 3
Arrange vegetables on a serving plate. Add chicken, sprinkle with oregano or parsley. Add croutons and salad dressing according to your taste. I use thousand islands. The dish is ready to be served, good luck.
Read Too : Baked Chicken Meatballs Homemade With Special Recipe - Let's Try It