COOKINDO -
Banana bread with cheese is a delicious homemade recipe that combines the sweet flavor of ripe bananas with the rich, savory taste of melted cheese.This delicious bread can be enjoyed for breakfast, as a snack, or as a dessert, and is sure to be a hit with cheese lovers and banana fans alike!
(+- 15 minutes) (for 2 servings)
2 pieces of white bread
1 sunrice banana
Liquid milk
Sweetened condensed milk
I use grated cheese using kraft cheddar
1 egg
Some margarine
How To Make:
STEP 1
Prepare 2 pieces of white bread, then press the inside with a spoon so that it forms a concave.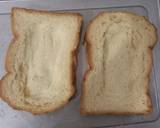 STEP 2
Spread the base of the bread and the edges of the bread so it doesn't stick and is crunchy when cooked

STEP 3
Stuffing ingredients:
Blend banana, 1 egg, 50 ml of liquid milk, 2 tablespoons of sweetened condensed milk or according to taste, you can add a pinch of salt.
STEP 4
Then pour enough banana batter in the middle of the bread

STEP 5
Bake the bread in the oven at 180 Celsius for 10 minutes

STEP 6
Once cooked, sprinkle grated cheese over the banana mixture. Prepare a lunch box ready to go. Try it at